Née au Japon, Je vis et travaille en Ile de France. J'ai suivi un cursus universitaire scientifique au Japon puis en France. Après l'obtention d'un Master Recherche au département de Biologie, spécialisé en Systèmes Écologiques, à l'Université Bordeaux I en 2008, je choisi d'orienter ma vie vers le monde de l'art.
Comment se lier, se positionner, fonctionner dans son environnement ? J'ai développé des recherches plastiques en m'appuyant sur la curiosité et la passion vers la science. J'ai travaillé de manière pluridisciplinaire au début de ma carrière artistique, j'ai présenté mes oeuvres en forme de vidéo, installations, peintures, ou photos, dessins.
J'ai découvert le charme de l'estampe en pratiquant la technique de la photogravure en 2014. Les expressions dans la profondeur d'1mm, les actes de gravure, les empreintes de mes mondes, une si belle harmonie des encres et des papiers. Après avoir été fascinée par le charme des estampes, j'ai converti ma pratique pour créer principalement des estampes en taille douce.
EN
Born in Japan, I live and work in Ile de France. I studied science at university in Japan and then in France. After obtaining a Research Master's degree in Biology, specializing in Ecological Systems, at the University of Bordeaux I in 2008, I chose to orientate my life towards the art world.
How does one relate to, position and function in one's environment? I developed my plastic research based on my curiosity and passion for science. I worked in a multidisciplinary way at the start of my artistic career, presenting my work in the form of videos, installations, paintings, photos and drawings.
I discovered the charm of printmaking by practicing the photoethching technique in 2014. The expressions in the depth of 1mm, the acts of engraving, the imprints of my worlds, such a beautiful harmony of inks and papers. After being fascinated by the charm of prints, I converted my practice to create mainly intaglio prints.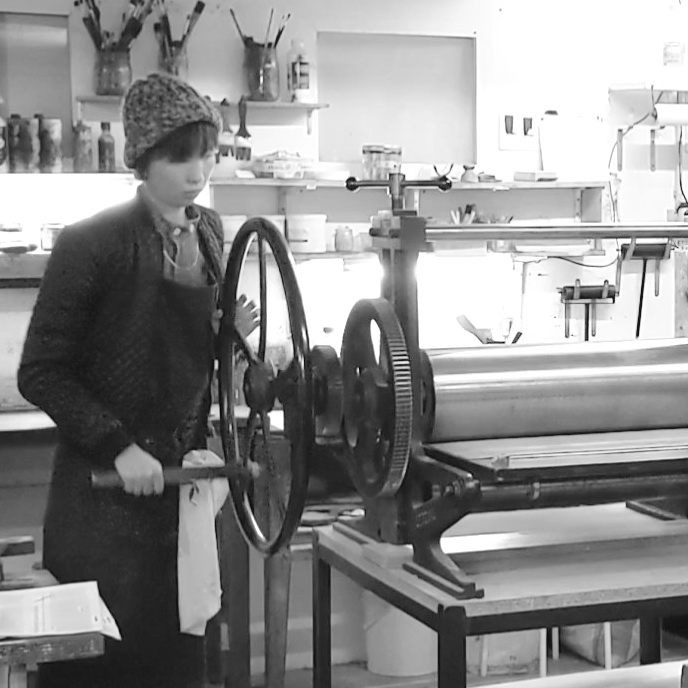 GALLRIES
SLOW GALERIE, Paris 11 (France)
IDF Gallery, Nagoya (Japon)
EXPOSITIONS PERSONNELLES
2021 LÉVITATION / IDF Galerie, Nagoya (Jp)
LÉVITATION / Matsuzakaya Nagoya, Nagoya (Jp)
2015 SWING THE LINE / A-traits architecture&design graphique, Bordeaux (Fr)
MIND THE GAP/ duo show, Japan Foundation New Delhi, New Delhi (India)
2014 DA-TÉ MASK#2/ L'Agence créative, Bordeaux (Fr)
2014 DA-TÉ MASK/ Gallery Le mètre Cube, Montignac (Fr)
2013 Ema KAWANAGO/ Festival de Les Femmes s'en mêlent, Bordeaux (Fr)
2011 L'Oiseau Bleu/ Itinerart, Centrale7, La Pouëze(Fr)
EXPOSITIONS COLLECTIVES (EXTRAITS)
2023 47ème Salon Art&Matière, « Invité d'honneur », Gironville sur Essone (Fr)
Art no chikara / Isetan Art gallery, Shinjuku (Jp)
2022 Art Mamire / Gallery Art Glorieux,Ginza Six, Ginza (Jp)
Fine Art Collection / Matsuzakaya- Ueno (JP)
Journées de l'Estampe contemporaine 2022, Paris (Fr)
2021 Trois/ Abe-Keishiro Gallery, Sendai (Jp)
Iime Fukurame / Matsuzakaya-Tokyo, Tokyo (Japon)
ART!ART!OSAKA / Daimaru-Umeda, Osaka(Jp)
Iime Fukurame Ueno / Matsuzakaya Ueno , Tokyo(Japan)
Journées de l'Estampe contemporaine 2021, Paris (Fr)
2020 Grandeur NATURE / Lasécu, Lille(Fr)
Young competition Iime Fukurame, Nagoya (Japan)
Journées de l'Estampe contemporaine 2020, Paris (Fr)
2019 Présentation vitrine/ Magasin Charbonnel, Paris (Fr)
2018 La deuxième Biennale internationale de l'estampe de Dreux / Dreux (Fr)2016
Le monde souterrain, Nuit Blanche / l'école 42, Paris(Fr)
DRACULA SIMIA / La réserve, Bordeaux(Fr)
2015 Il fallait mettre des choses dans ce vide / Atelier La Réserve, Bordeaux(Fr)
Ancrage-Fête de l'estampe 2015 #3/ Atelier La Réserve, Bordeaux (Fr)
Sociale Animal/ Alliance française, New Delhi(India)
East-West Festival / Niv Art Centre, New Delhi (India)
2014 Multi / TIN-BOX+Agence Créative, Bordeaux(Fr)
REFLECT WHAT YOU ARE (IN CASE YOU DON'T KNOW)/ 18 points de vue photgraphieque(s)#2, Bordeaux(Fr)
2013 IN THE VOID/ Crypt Gallery, London (United-kingdom)
Jeune Création 2013(Karaoké d'artiste)/ Le CENTQUATRE, Paris(Fr)
GREEN RIOT + SYMBIOSIS/ Le Hangar-Darwin-Ecosysteme, Bordeaux(Fr)
GO WEST FESTIVAL 2013/ Güneş Theater, Frankfurt am Main (Germany)
ACQUISITION ET DIFFUSION PUBLIQUE /PRIVEE
-Film Français "L'Homme Fidèle" de Louis Garrel, France
-Médiathèque François Mitterrand, Pays D'Héricourt, France
-Japan Foundation, New Delhi, INDE
-Tinbox Artflox, Bordeaux, FRANCE